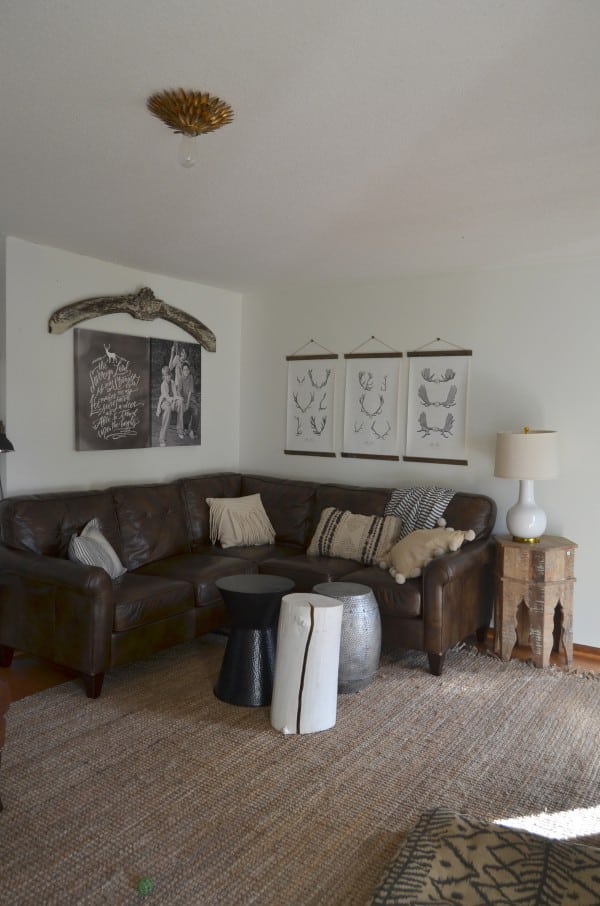 Raise your hand if you are reading or have read The Life Changing Magic of Tidying Up?
My hand is raised.
Whenever I read a book like that, I know I need to be in the right frame of mind first.
For example, this is not a book to read while you are on vacation staying someplace away from your home–because you will find yourself organizing and decluttering the guest house you are staying in–you want to be home and apply the lessons as you read.
I don't want to commit to making lots of decisions about getting rid of and decluttering my decor, when I feel like I haven't finished decorating the spaces in my home. It seems premature.
I don't have a lot of emotion about my stuff, I'm barely sentimental, so for me "sparking joy" is when I have something I enjoy in a place where it looks great and I use it.
My problem isn't letting go of something because I'm attached to the emotion or memory, but because I'm afraid I might need it later.
My dirty little secret is, when we were renting I NEVER felt like I could get rid of anything because I didn't know what our next move would bring us–would the house be bigger, smaller, would I need those extra sheets, chairs, mirrors or pillows?
Looking back I wish I would have felt more free to allow things to move out of my life and trust that I would have what I needed when the time came. Because of my hoarding of cute stuff "just in case" our move here involved twice as much stuff that would fit in our home, and I am still going through my decor stuff and realizing I need much, MUCH less than I realized to create pretty and comfy space for our family.
I was stuck in the collecting phase where more was better and if there was space– I had to fill it. I've written post after post about how I was in the habit of grabbing a few cute things every week at yard sales or the goodwill–and that's great for a season, but I forgot to stop.
Like in that photo above, I still love it. I think each of those things individually is pretty. But, I can now see that I could accomplish the exact same feel or style of this vignette and use only half the stuff–or LESS.
And if I have the choice to use two or three times as much stuff OR use just enough stuff, I've decided I'll use just enough thankyouverymuch.
Why was I making life more difficult for myself?
Of course, choosing to use less stuff was a challenge because that involved me having to make actual hard decisions. Which cute stuff should I keep, which stuff should I pass along to another happy home?
And really, in a way our homes are never finished. Which is true, but also, does that mean I can never get rid of any of my decor because my house isn't finished yet so I have to hold onto everything just in case? I don't like what that leads to.
Since we've moved to this house, I've been much more strict with myself about what is needed here in our home.
I want a pretty home that represents us. I want it to be a style I love–rustic with quirk. But I want to use the very least possible things to accomplish my goal.
My focus has been on
seating
surfaces
lighting
rugs
drapes
wall art
…in that order and then once I have those things in place am I allowed to make choices about all my cute tchotchokes.
Do you know what the choice usually is?
I don't need them.
I have a tendency to overcompensate with little junk/geegaw/smalls/set arounds: tchotchkes.
And I am over it.
Or at least getting over it.
And it is making my life and home SIMPLE.
I love a few well-chosen pillows, I use a throw even on a summer night, but I'm finding once I get the main things in place in a room, the rest comes together without the need for lots of "smalls".
I'd love to hear your thoughts on the KonMari method and the book.
Do you struggle with getting rid of stuff?
***
PS, today is the last day to sign up for the Cozy Minimalist course.
We are closing enrollment for the summer. Will it be back? I hope so! I've learned to not make promises about that kind of thing though. But for anyone one signs up or has signed up, you'll continue to have access as long as you need it.
In the course I talk you through the steps I talked about above, and we've got a ton of cute slides to keep it interesting.
And for fun, here's one more before and after from Angela, a Cozy Minimalist graduate–they moved into a fixer-upper and from the class she learned how to approach a room step by step to create a space that represents her style with just the right amount of stuff, and she learned where to make some temporary fixes to hold her over until they can make permanent changes–wow! What a difference! See a few more before & afters here.
Angela's room before
Angela's room after